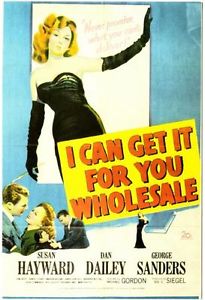 Susan Hayward portrays Harriet Boyd, a model at a 7th Avenue garment center in New York City. Harriet has high ambitions. She wants to design clothes for her own company. Her co-partners in her new business will be Teddy Sherman (Dan Dailey) and Sam Cooper (Sam Jaffe). Their new business is barely off the ground when J.F. Noble (George Sanders) becomes interested in Harriet's designs and particularly in Harriet herself. Thus, the conflicts begin.
The film is in black and white which gives it a somewhat lingering sense of detachment. I'm a fan of black and white, but I think this one would have been best to have been filmed in glorious technicolor. One can only imagine Susan's flaming red hair along with the beautiful gowns worn by her and others if it had been in color.......Think "Back Street."
Susan Hayward portrays Harriet Boyd perfectly. She is the tough, ambitious, self-centered female who in the end redeems herself as she discovers that she can compromise her ambitions and still hold on to what is dearest in life which are the people who love and care for her.
On the screen Susan Hayward was often ahead of her time. She was never afraid to play a strong woman and reflected that she was on equal ground with the men. This was a long view for the early 1950's. Susan had a unique gift for winning the admiration and affection of both men and women. The men loved her beauty, and the women also loved her beauty, but more importanly, women related to the messages she gave out to them --survivor, strong,determined...but also, feminine and always that touching vulnerability that endeared her to us.
As a side note, Lillian Roth (whom Susan portrayed in the film "I'll Cry Tomorrow") starred in the Broadway musical production of "I Can Get It For You Wholesale" several years later). Elliott Gould played Susan's character on stage. In the original story, the lead character was male.
Savage, a buyer..."Hey Miss, I think I've seen you here before."...yes, you're the young lady who said she goes to night school, or did you say you had a sick mother"
Harriet......"I've said both, Mr. Savage."
Teddy, Harriet's love interest....."What are you doing for lunch"
Teddy..."What about tonight?"
Harriet..."Reading the small print from Women's Wear Daily to my blind grandmother."
"I Can Get It For You Wholesale" is smart, sophisticated, and as sharp as a two-edged sword.