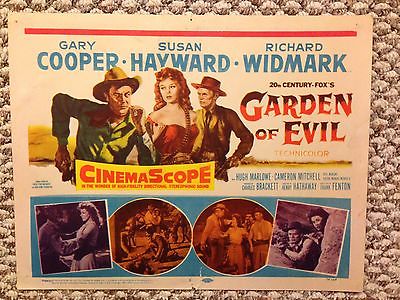 The setting is in a deserted Mexican village. Leah (Susan Hayward) is looking for someone to help her go up into the mountains to resuce her injured husband who is trapped in a goldmine. She meets up with three goldhunters who are stuck in the village for a few weeks until a steamboat engine is repaired...Hooker (Gary Cooper), Fiske (Richard Widmark),and Daly (Cameron Mitchell)...She offers to pay them $2,000 each for their help. They take her up on her offer,Vincente (Victor Manuel Mendoza) comes along as their guide, and their treacherous adventure begins.
The journey is rugged but spectacular in cinematic beauty.The scenery almost becomes another character. Despite the guide suspiciously marking their trail, Daly trying to force his affections on Leah, and Siske being his sarcastic, "uncaring" self, Leah presses forward with steely determination. She manuevers the difficult terrain on horseback as well or better than the men. In one scene she leads the way in a tense scene where they have to ride their horses across a break in the rocky mountain ledge with the audience aware that if one of them missed, it would be certain death. Hooker (Gary Cooper) is the only one of the group who who demonstrates a sense of protection and empathy for Leah.
When they reach the "Garden of Evil", they find her trapped husband,Fuller (Hugh Marlowe). They try to help him but then there is the danger of Indians and the intensity builds.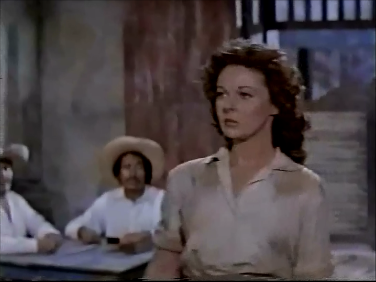 Susan Hayward, as Leah, was forceful in this role, as the woman trying to rescue her trapped husband, who in the end, didn't seem to have much love or appreciation for her. With her real life expertise and background in horseback riding,along with her flaming red hair, she was as Fiske said when she first made her entrance in the film, "The Red Queen."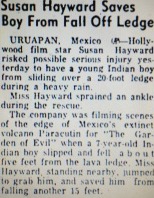 Side note: During the filming of "Garden of Evil" Susan Hayward rescued a young Indian boy when he almost fell off a lava ledge on Paricutin Mountain. He was in great danger as he was very close to falling another 15 feet. Susan quickly jumped down to the ledge, risking harm to herself,and grasped the boy. Her heroism made the papers as you can see in the small article inserted here.
Quotes:
Hooker: "I guess if the earth were made of gold, men would die for a handful of dirt."
Hooker: "A cross isn't a bad thing to see. It can be beautiful, and everybody has one."
~~~~
Ginger Haydon