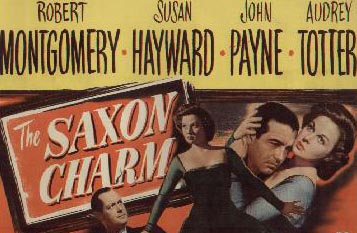 Janet Busch (Susan Hayward) plays the dedicated, supportive wife to successful author, Eric Busch (John Payne). Eric is flattered and excited when he finds out that theater producer, Matt Saxon (Robert Montgomery) wants to produce his play. Saxon invites Eric and Janet to dinner to meet his friends--Alma Wragg (What a name!....Audrey Totter), Zack Humbler (Harry Von Zell), and Dolly Humber (Cara Williams).
The restaurant scene is expertly played by the actors, and it is a memorable one. It is uncomfortable to watch which attests to the skill of the cast. Here Matt Saxon's arrogance and temper are in full display since the food and service are not to his liking. Saxon insists that the group leave, storming out of the restaurant. The story continues to revolve around Saxon and how the lives of those who surround him are affected by his own hatred of people, places, and things....but mostly his hatred for himself.
Audrey Totter is outstanding as the nightclub singer who is in love with Matt Saxon. Personally, it is wonderful for me to see Susan Hayward and Audrey Totter in a film together since both are favorites of mine. According to an interview I have read, Susan and Audrey got along well together off screen also. For me, the "charm" here is Susan Hayward and Audrey Totter in the same film.
Susan Hayward, as always, is beautiful in the film, yet her role sometimes comes across as secondary. As Janet, she does have Matt Saxon's "number" early on and is convincing as Eric's loving wife who only wants the best for him.
Side note: Henry Morgan is also in the film portraying Saxon's brow beaten manager. Cara Williams and Morgan starred together in the 1950's television show, "Pete and Gladys." Also, Barbara Billingsly ("Leave It To Beaver"...Mom) is an extra in a scene at Eric and Janet's apartment.
Quote:
Robert Montgomery as Saxon: restaurant scene... "Let's quit this fascist pesthole."
~~~~Ginger Haydon