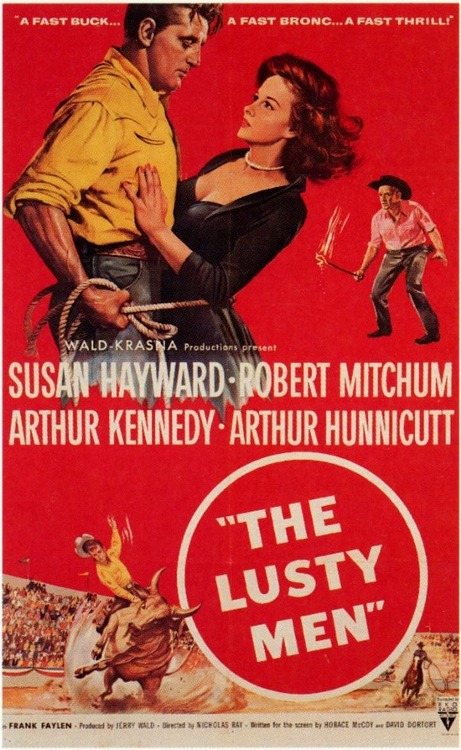 Louise Merritt (Susan Hayward) and her husband, Wes Merritt (Arthur Kennedy), desperately want to buy their own home and land. They meet up with Jeff (Robert Mitchum) a washed up rodeo rider who has seen his best days. Wes wants to make more money so he and Louise can buy their own place. He and Jeff team up to enter rodeo events with Jeff as Wes' manger. Louise does not approve but reluctantly goes along with their plan.
The story unfolds with a triangle of relationships. Jeff is interested in Louise, Louise loves Wes, but uses Jeff.
The film was directed by Nicholas Ray and is considered his finest work. The rodeo scenes were filmed at actual rodeo events. There were several famous rodeo stars in the film.
Susan Hayward gives a strong performance and looks as beautiful portraying the common, ordinary housewife wearing plain attire as she does when she portrays more elegant roles dressed to the nines. There is a rowdy, fun, and memorable scene in the film where Susan as Louise gets into a spirited brawl with starlet Eleanor Todd with Louise winning as she literally gives Todd the boot!
From all accounts it seems that Mitchum and Hayward did not get along well off screen, but their chemistry on screen is good, probably because there is animosity with their characters and real life just fit right into the scheme.
Side notes - The original title for "The Lusty Men" was to have been "This Man Is Mine." Susan had been traded out to RKO; therefore, Howard Hughes chose her for the role of Louise. The film was originally made in black and white, but there is a colorized version. In my opinion, the black and white works best for this story. It adds to the starkness and realism of the film.
Quote: Jeff McCloud (Robert Mitchum) "Hope's a funny thing. You can have it even when there ain't no reason for it."
~~~~Ginger Haydon
http://www.susanhaywardclassicfilmstar.com
http://www.facebook.com/susanhaywardclassicfilmstar