The Conqueror (RKO), 1956
July 10, 2014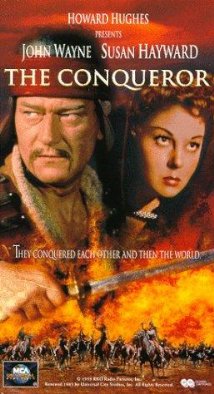 The Conqueror, an epic filmed in cinemascope , was produced by Howard Hughes, and directed by Dick Powell. It has been considered one of the worst films of the 1950's, and has been on different "worst" lists as one of the worst films ever, despite it's stellar cast. John Wayne comes off as a ridiculous Genghis Kahn. Although most of us adore the Duke, in this particular film he is Genghis Kahn on the range. It doesn't work. Susan Hayward, however, is beautiful as Bortai, and gives it her best although she said later "I had hysterics all through that one. Every time I had a scene I dissolved in laughter. Me, a red-haired Tartar princess. It looked like some wild Irishman had stopped on the road to Cathay."
Susan Hayward as Bortai portrays the beautiful daughter of the Tartar leader, Kumlek (Ted de Corsia), who had killed Temujin's father. Temujin and his Mongols attack Bortai's caravan and capture her. Despite the pleading of his mother, Hulun (Agnes Moorhead) to release Bortai, Temujin refuses. He is smitten with her.
Bortai's people rescue her, but she is later captured again by Temujin who says he will make her his wife. Bortai is disgusted with Temujin and resists.
The Mongols are invited to a banquet by the great leader, Wang Kahn (Thomas Gomez). At the banquet, Susan, as Bortai, performs one of her most famous movie scenes, a two sword-dance where at the end of the dance she flings one of the swords at Wang Khan. Temujin and Wang Kahn later join forces to defeat the Tartars. Before they can put their plan into action, Bortai escapes and Temujin is wounded. Jamuga, Temujin's brother, (Pedro Armendariz) mistakenly leads the Tartars to Temujin's hiding place. Bortai's father sentences Temujin to death, but she has fallen in love with him, and so she sets him free.
Temujin is convinced that Wang Khan will become his enemy. He captures Khan's city and becomes ruler of the Mongols. Temajin kills Bortai's father in battle, and she later becomes his wife. Temajin becomes the great Genghis Khan.
Side Notes – The Conqueror is now mostly known for the "Cancer Controversy" It was shot on location in St. George, Utah, not many miles from US governmet nuclear testing. Many in the cast later died of cancer. Among those were John Wayne, Susan Hayward, Dick Powell, Pedro Armendariz, Agnes Moorhead, John Hoyt, and others of the cast and crew. What is controversial is that many of those who later succumbed to cancer were also smokers.
Quotes: Hunlun (Agnes Moorhead) "My son has won the world. Still he must conquer that red-headed Jezebel"
Temujin (John Wayne) "For good or ill, she is my destiny."
Bortai (Susan Hayward) The Conqueror? Mighty armies cannot stop him But one touch of my lips….Yes, he captured me-but he cannot tame me."
~~Ginger Haydon
http://www.susanhaywardclassicfilmstar.com
http://www.facebook.com/susanhaywardclassicfilmstar